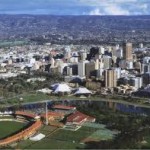 Adelaide is the capital of South Australia and is commonly known as the "Festival State".  It is the third largest state of Australia with a population of 1.2 million.  South Australia is the driest state in the driest continent of the world.  It has a Mediterranean climate of long hot summers and mild winters.
Adelaide is best known for its Festivals which are held throughout the year, the main ones being The Adelaide Festival, The Fringe Festival, and WOMADADELAIDE.
WOMAD (World of Music, Arts and Dance) festival features more than 40 amazing bands from across the globe, performing on seven stages, which rates alongside many of the best festivals in the world.
There are 16 wine regions throughout South Australia and many within an hour's drive from Adelaide such as McLaren Vale,
 Barossa Valley, and  The Adelaide Hills.  See the list of South Australia's top 100 wines.   http://www.adelaidereview.com.au/article/1143
Adelaide has a number of major sporting events throughout the year.  One that really puts Adelaide on the map is the "Santos Tour Down Under" where over 100 of the world's best road cyclists compete over a six day duration and features key locations throughout Adelaide and regional South Australia.  http://www.tourdownunder.com.au/ 
Other events include "Clipsal 500" which is recognised as the best event on the Australian motor sport calendar.
Also the "Australian International Three Day Event" is Australia's premier equestrian competition held in November each year.   It is the only CCI four star event held in Australia, the only one held in the Southern Hemisphere and one of only six held across the world.  For the past ten years, Adelaide has been the chosen as the host city of this hallmark equestrian event.  For more details see: http://www.australian3de.com.au/